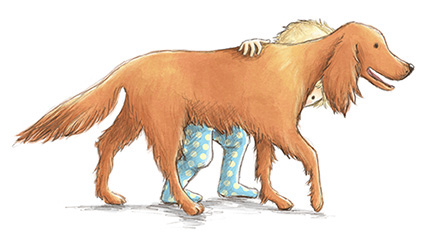 PLEASE READ before contacting me, thank you!
Unfortunately, I'm unavailable to illustrate books or projects in 2019
I hope to return to my love of illustrating stories for children when I'm well enough to do so. In the meantime, I plan to illustrate my own children's stories on my 'good days' without the pressure of deadlines. I'm happy to stay in touch with traditional publishers for future projects.
For the first five years, I kept my health battles to myself, but I think it's important to spread awareness of invisible, and often misunderstood, chronic illnesses that are in desperate need of government support, biomedical research funding, and education in medical schools. I created an animated gif and posted a snippet of my story, along with some information for awareness
here
. 
Thank you for your message.
Frequently  Asked  Questions
I'm an aspiring author and have written a children's picture book. Will you illustrate my story?
Thank you for thinking of me, but there's actually no need for you to look for an illustrator unless you're self publishing or, in the rare situation, your publisher wants you to organise the illustrations. Unfortunately, I'm not able to work directly with aspiring authors or self publishers at this time.
Are your illustrations traditional or digital?
By mixing the two, I'm able to enjoy the best of both worlds!
Over the years, I have found illustrating digitally to be more efficient and flexible when working to deadlines and making changes. It is also environmentally friendly, in that I don't use nearly as much paper during the storyboarding and character development stages. However, I don't wish to compromise on my traditional style, so I include my original soft pencil outlines, watercolour washes and handmade textures in my final illustrations, which are completed using Adobe Photoshop and a Wacom drawing tablet.
I looked for your book at my local bookshop, but couldn't find it. Where can I purchase your picture books?



My books should be available to purchase from all good Australian bookshops and some department stores. If my book is currently not on the shelf, kindly ask a staff member to order one in for you. 
Alternatively, you can purchase online from my
shop
page.